Chainge Finance's Black Label Package includes a Hardware Cold Wallet and a Visa Virtual Credit Card for secure crypto storage and trading with global coverage, low fees, and a referral program.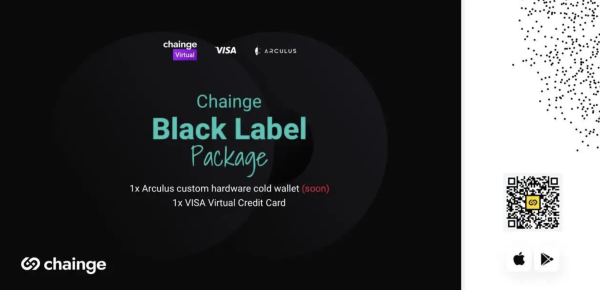 New York, NY, United States, 25th Jan 2023  — Chainge Finance, the pioneering cross-chain DeFi app, is excited to unveil its latest innovation – the Black Label Package. This exclusive package includes two highly-anticipated features that will elevate users' crypto experience to the next level. Wrapped in a sleek black label design, the package includes a cutting-edge Hardware Cold Wallet and a Visa Virtual Credit Card, making secure crypto transactions and off-ramping a breeze.
The Hardware Cold Wallet is the ultimate security solution for crypto investors' assets. Powered by CompoSecure, one of the oldest and most reputable credit card manufacturers in the world, Arculus boasts a best-in-class CC EAL6+ Secure Element. This means that even if a user loses a key card or it gets stolen, no one else can use it but the user. Plus, it's easy to replace. The key card communicates with the Chainge wallet via a tap-to-transact secure NFC connection, eliminating the need for Bluetooth, USB, or cords. With the Chainge hardware wallet, security is made simple.
The Visa Virtual Credit Card, powered by Railone, offers global coverage and allows users to purchase any online goods and services that accept credit card payments by converting crypto assets into the available fiat currency: $USD. With a minimum top-up amount of 1000 $USD and a daily spending limit of 20,000 $USD, the commission scheme is highly competitive with a deposit fee of 0% (1:1 ratio), a banking fee of 1% per transaction, and a 0.05% penalty per day for unpaid bills.
The added credit on the card can be reconverted to crypto and withdrawn back into the wallet at any time, with a 2% service fee. To get the virtual credit card, users must complete a basic KYC, after which it will be available on the Chainge app dashboard. 
The Black Label Package is available for 2000 CHNG, but here's the catch: within 10 days after users have activated the credit card if they have over 5000 $USD credits available, the 2000 CHNG payment will be reimbursed to them(by the end of 2023), so users basically get the package for free! And if users want more than one hardware cold wallet, they can order them for 2000 CHNG each.
And that's not all! The new version of the Chainge app also includes a Chainge Referral Program, where users can refer friends and earn rewards. Furthermore, the dashboard has been slightly updated to improve user experience and support Korean and Portuguese.
The Hardware Cold Wallet will come with an NFC connection for added security and the Visa Virtual Credit Card with a convenient off-ramp solution with a 1% transaction fee. 
This will be most beneficial for example for  western, African and SEC markets, with huge crypto ease off solutions and with easy access and a non-major KYC process. The package ultimately elevates the crypto experience with added security and convenience.
About Chainge Finance
Chainge Finance is a leading multi-chain DeFi platform that currently stands as the most liquid cross-chain aggregated DEX on the market. It allows users to instantly set up a self-custodial wallet on their phone, send and receive assets with minimal costs, cross-chain roam 1400+ assets among 30+ chains, trade in the DEX (Spot, Futures & Options), add liquidity in the Chainge DEX Pools and earn passive income. The platform also offers a decentralized escrow service for buying and selling any asset or service.
Media Contact
Organization: Chainge Finance
Contact Person: Jill Moss
Email: [email protected]
Website: https://chainge.finance
City: New York
State: NY,
Country: United States
Release Id: 2501232267
The post Chainge Finance's Black Label Package: A Game-Changing Solution for Secure and Accessible Crypto Transactions appeared first on King Newswire.
Information contained on this page is provided by an independent third-party content provider. Binary News Network and this site make no warranties or representations in connection therewith. If you are affiliated with this page and would like it removed please contact [email protected]