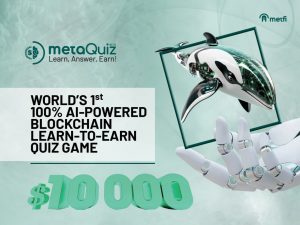 Seoul, South Korea, 11th September 2023, ZEX PR WIRE, In a rapidly evolving world where technology is shaping every facet of our lives, learning and earning have taken a new form with the emergence of MetaQuiz. This innovative edutainment platform is rewriting the rules of digital learning, and its journey is being steered by the creative minds at MetFi DAO. With a mission to broaden the horizons of knowledge and amplify reward opportunities, MetaQuiz is at the forefront of a transformation that promises to redefine the future of edutainment.
MetFi DAO: The Creative Powerhouse 
MetaQuiz owes its innovative edge to MetFi DAO, a trailblazing entity in the fields of AI, Metaverse, and Web3. MetFi is not just a DAO; it's a community-driven platform that fosters innovation, incubates promising startup projects, builds its own products and nurtures a collective vision for the future. Under its guidance, MetaQuiz has been able to shape a unique learning experience that seamlessly combines AI-powered knowledge with blockchain rewards.
One of the most remarkable aspects of MetaQuiz's development is the active participation of its user community. Feedback and suggestions from users are not only heard but implemented, ensuring that every enhancement aligns with their needs and aspirations. This user-centric approach is shaping the platform's evolution in real-time, making it more relevant and engaging.
Expanding Learning Horizons
MetaQuiz's vision is to continue to diversify and add to its range of learning topics and languages, offering something for learners with a wide array of interests. From music and science to history, sports, geography, art, as well as more cutting-edge subjects like blockchain, crypto, and NFTs, MetaQuiz is a treasure trove of knowledge in a unique gaming format. This expansion is driven by the belief that learning should be an enriching journey, regardless of one's background or interests.
Multilingual Quizzes
Recognizing the diversity of its user base the topics are multilingual, allowing users to explore and learn in their preferred language. This not only breaks down language barriers but also fosters the dissemination of knowledge on a global scale. MetaQuiz's commitment to reaching learners from all corners of the world is embodied in this feature.
Enhanced Rewards
Learning should be rewarding, and MetaQuiz is committed to making it so. The platform rewards users every Saturday with instant on-chain rewards. With a minimum weekly prize pool of 10,000 USDT, MetaQuiz offers not only knowledge but also tangible incentives to learn. These rewards are instantly sent to winners' wallets, creating a seamless and delightful experience. MetaQuiz is not just a place to learn; it's a place to thrive.
Partnerships and Global Reach
MetaQuiz has a global mission: to reach a wider and more diverse audience and stimulate cross-cultural dialogue via partnerships and collaborations with brands and Web3 projects seeking fun, rewarding and educational ways to attract new customers and engage their loyal followers. In pursuit of this vision, the AI platform can be quickly trained to learn everything there is to know about your brand and deliver custom quizzes on topics and in languages that will thrill and engage your audience. By expanding its reach and welcoming diverse perspectives, MetaQuiz aims to become a hub of global knowledge exchange.
Transparency and Security
At the very core of MetaQuiz lies a commitment to transparency and security. To ensure the fairness of operations and reward distribution, MetaQuiz uses Chainlink's Verifiable Random Function (VRF). This protocol ensures that all prize draws are verifiably random. Users can trust that their efforts will be rewarded fairly and securely.
A Message from Matt Davis, DAO Member
Matt emphasizes, "MetaQuiz is on a trajectory of growth and innovation that is reshaping the edutainment landscape. We are continually exploring new features and enhancements to provide an unparalleled learning and rewards experience."
Join MetaQuiz on its Transformative Journey
MetaQuiz invites all knowledge enthusiasts to join its vibrant community, where learning meets boundless possibilities. As the platform forges ahead into the future, the possibilities for growth, learning, and rewards are limitless.
For those eager to embark on this journey of discovery, MetaQuiz's official website serves as the perfect starting point. Additionally, the team is readily available on Telegram, Twitter, and Discord to answer any questions and provide insights into the platform's exciting future.
In essence, MetaQuiz is on a dynamic journey of growth and innovation. It is redefining edutainment by intertwining AI and blockchain technology, offering users an immersive experience where learning meets rewards. As it continues to evolve, MetaQuiz promises to revolutionize the edutainment landscape, offering an enriched and rewarding learning process for all.
For those eager to explore this exciting world of knowledge and rewards, MetaQuiz's official website is the perfect starting point. Additionally, the team has Telegram, Twitter, and Discord channels to answer any questions. The future of learning and earning is here, and it's called MetaQuiz.
The Post Metaquiz: Transforming Digital Learning With Ai-powered Blockchain Rewards first appeared on ZEX PR Wire
Information contained on this page is provided by an independent third-party content provider. Binary News Network and this Site make no warranties or representations in connection therewith. If you are affiliated with this page and would like it removed please contact [email protected]