Bengaluru, India, 10th Apr 2023 – Travopo, the innovative travel platform, has launched an exciting new challenge that's capturing the attention of millennials and Gen Z travelers worldwide. The "Spin the Globe" (STG) challenge invites participants to spin a 3D globe and explore a random destination, offering a unique and engaging way to discover the world.
Since its launch, the STG challenge has attracted over 24,000 participants and has been shared 16,000 times on social media, making it a rising trend in the travel industry. The challenge embodies Travopo's fundamental philosophy that travel should be about exploration, discovery, and personal development. The platform encourages travelers to embark on transformative journeys that take them beyond their comfort zones and broaden their horizons by venturing into the unknown.
Travopo.com is an all-in-one platform for trip planning that empowers users to organize their travels based on their unique preferences and needs. The platform offers a range of practical tools designed to support travelers in all aspects of trip planning, Such as:
AI Assistant: Users can chat with an AI assistant to receive personalized travel deals tailored to their preferences and interests.
Travel Guides: Free access to over 5,000 comprehensive and up-to-date travel guides, curated from multiple sources.
Explore Tool: Assists users in discovering inspiring locations and immersive experiences around the world.
Scanner Tool: Searches for the most affordable flights and hotels across the globe.
Packing tool: Helps users remain organized and ensure essential items are included in their trip packing checklist.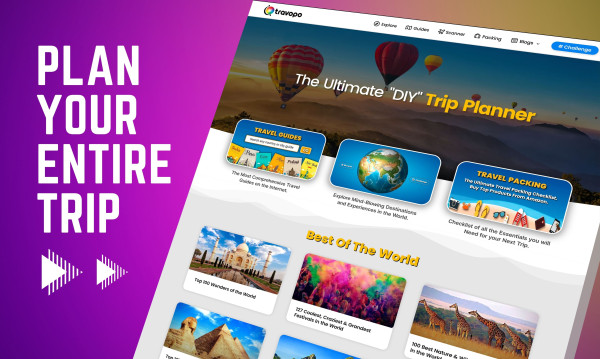 At its core, Travopo believes that travel planning is a personalized process that requires research and customized nuances based on several factors, such as destination, companions, preferences, budget, and time constraints. The platform provides users with the right practical tools and resources to make their travel planning experience seamless and enjoyable.
Travopo has gained recognition from various websites, including Product Hunt, WebAppMarket, and Killer Startups, for its new developments and unique features. The positive reviews have positioned Travopo as a reliable travel platform.
Moreover, the platform provides free access to information and abstains from incorporating ads, paywalls, or sign-up requirements, streamlining the travel planning process for all users. 
The STG challenge and advanced features are transforming the way travelers discover the world, fostering personal growth and self-discovery while making trip planning efficient and enjoyable.
About Travopo:
Travopo.com is a digital platform for travel services, offering tools to assist with organising and planning trips. Travopo's mission is to make travel more accessible, seamless, and engaging by creating a robust platform and a thriving online community of travelers.
For more information on Travopo and the STG challenge, visit: https://travopo.com.
Media Contact
Organization: Travopo
Contact Person: Jamie Brown
Website: https://travopo.com
Email: [email protected]
City: Bengaluru
Country: India
Release Id: 1004233039
The post Over 24000 Travelers Take Part in Spin the Globe Challenge Launched by Travopo appeared first on King Newswire.
Information contained on this page is provided by an independent third-party content provider. Binary News Network and this site make no warranties or representations in connection therewith. If you are affiliated with this page and would like it removed please contact [email protected]