Dubai, UAE, 16th November 2023, Kinetex co-founders Tigran Bolshoi and Mike Shishko attended the zkDay event in Istanbul on Monday, November 13. During the zkDay Istanbul Pitch Competition, Bolshoi took the stage to present Kinetex's innovation – cross-chain Zk light clients. These clients have the potential to revolutionize the way we approach cross-chain transactions, offering a more secure and efficient alternative.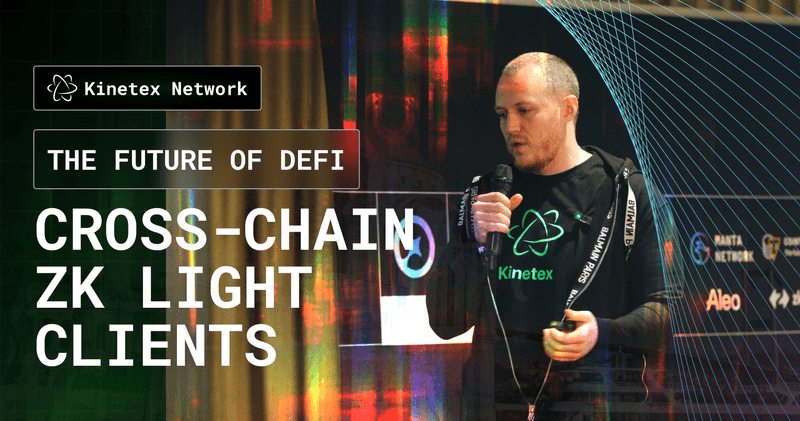 Firstly, Bolshoi shed light on the challenges that cross-chain bridges regularly face. He highlighted several critical issues, including safety concerns, high gas payments, lengthy wait times, and excessive commissions.
All these issues can hinder the growth of the DeFi industry, preventing it from reaching its full potential. Safety concerns lead to a lack of trust in the system, resulting in fewer users and less liquidity. High gas payments and lengthy wait times make transactions costly and time-consuming, discouraging users from using DeFi products and services altogether, and excessive commissions do not improve the situation. Therefore, addressing these challenges and finding solutions to make cross-chain transfers more time- and cost-effective is pivotal to the future of DeFi.
During his presentation, Bolshoi proposed that light clients could be the ideal solution to the industry's current struggles and could bring about significant benefits. Light clients enable the optimization of transaction validation, thereby reducing both the time and cost involved in the process. Incorporating zero-knowledge technology (Zk) makes the process even more efficient and secure.
While traditional light clients still need to compute all blockchain headers either from the beginning or from where they ended last time, which can span millions of blocks, Kinetex Zk light clients can verify the chain from the beginning of the previous verified block up to the target using just one proof and a few public input hashes.
During the event, Bolshoi introduced the audience to a new resolving standard for cross-chain that will be used in Kinetex's upcoming Kinetex dApp mode. This new mode will employ Zk light clients to allow instantaneous swaps with professional resolvers (market makers) without relying on third-party validators and paying high commissions.
Such an approach has multiple serious advantages. Firstly, there is no need to store funds in pools since all liquidity is supplied by resolvers, eliminating the possibility of attacks on pools and thus ensuring increased security during the transaction process. Secondly, the absence of bridges further increases security while enabling Kinetex to avoid creating new wrapped tokens, which are often associated with worsening liquidity struggles with frozen and fragmented liquidity. Thirdly, Zk light clients help to lessen gas costs during cross-chain trades, including multi-part ones, which are often unnecessarily expensive for users.
The team was excited to be at the event and talk about zero-knowledge technology with people who shared their excitement and optimism about the potential of Zk to address some of the challenges the crypto industry faces. Stay tuned for any updates on Kinetex Zk light clients and revolutionary Flash Trade!
Kinetex Network: Website | Kinetex dApp | Twitter | Blog | YouTube
Information contained on this page is provided by an independent third-party content provider. Binary News Network and this Site make no warranties or representations in connection therewith. If you are affiliated with this page and would like it removed please contact [email protected]