Soldait is an emerging blockchain and crypto platform. Recently, the company has launched new decentralized ecosystem for streamlined payment processing.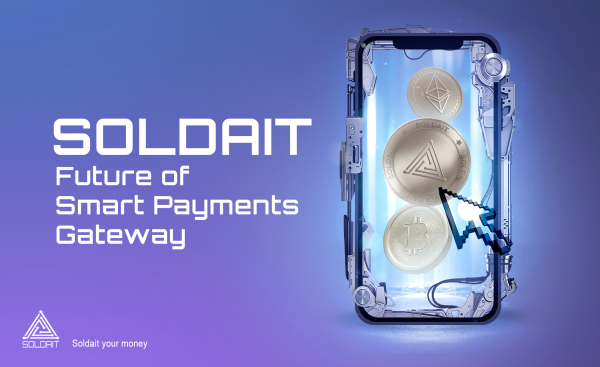 Dubai, United Arab Emirates, 1st Feb 2023, King NewsWire – In the latest development, SOLDAIT, the revolutionary payment gateway, is proud to announce its official launch, providing customers with a safe, fast, and efficient payment solution that combines the benefits of blockchain technology with smart contracts.
With SOLDAIT, users can now transfer funds and make payments in a quick and secure way. The ecosystem offers access to multiple payment networks, low operational costs, instant on-demand settlement, and real-time traceability of funds. The platform is created to make it easy for users to manage their crypto funds from their smartphones. The company's goal is to become the most sought-after crypto-based payment platform in the GCC and Middle East.
SOLDAIT is designed as a one-stop-shop for all payment needs, offering a payment gateway (SoldaitPay), a decentralized exchange (Soldaitswap), a multi-wallet, and support for multiple vendors, as well as crypto exchange, smartphone apps, and a store. The ecosystem is powered by the SoldaitChain and includes a partnership with Visa to provide users with an even greater range of payment options.
SOLDAIT aims to make life easier for its customers by providing an ecosystem powered by multi-purpose code. The goal is to create a seamless and simple payment solution that can be used by everyone, regardless of technical knowledge. By providing a decentralized solution that aligns the incentives of all participants, SOLDAIT is self-sustaining and growing.
The company is looks forwards to bring SOLDAIT to the market, as it introduces the new payment solution. The newly designed solution is to provide users with a better experience, and the company's mission is to improve the blockchain ecosystem and bring about change. With SOLDAIT, the officials at the company are confident that it can make a significant impact in the industry and help in increasing the adoption of blockchain technology.
SOLDAIT's business strategy and applicable legal rules and regulations determine the availability of specific products and services in each market. However, the ecosystem is designed to provide attractive opportunities, innovative products, and services in the digital space, making it the best choice for a society that values the most efficient payment system.
In addition to that, the company also facilitates its users with the Soldait Protocol. It is a decentralized solution for smart payment through smart contracts. It offers multiple options for efficient and secure transactions. The protocol is designed to be generic, cost-effective, seamless, and trustless. It follows best engineering practices and utilizes cheaper alternatives to reduce costs. The protocol focuses on being user-friendly and easy for developers to build upon. 
Furthermore, the core of the system is the Soldait Smart Payment Protocol (SSP), which allows for low-fee transactions and mid-market exchange rates. Transactions are stored on the BSC blockchain, providing a trustless and secure ledger. The protocol eliminates intermediaries and reduces costs for merchants, making it a valuable solution for both buyers and sellers.
In conclusion, Soldait provides an ultimate blockchain-based payment gateway that utilizes smart contracts for decentralized payment control. It allows users to manage their funds using their smartphones, including both fiat and cryptocurrency options.
About the Company – SOLDAIT 
SOLDAIT is a revolutionary payment gateway that provides customers with a fast, safe, and efficient payment solution based on blockchain technology and smart contracts. With access to multiple payment networks, low operational costs, instant on-demand settlement, and real-time traceability of funds, SOLDAIT is changing the way people transfer funds and make payments.
For further information about SOLDAIT, visit: http://Soldait.com.
Media Contact
Organization: SOLDAIT
Contact Person: Mostafa abdelmohsen
Email: [email protected]
Website: http://Soldait.com
City: Dubai
Country: United Arab Emirates
Release Id: 0102232366
The post SOLDAIT Launches Revolutionary Payment Gateway with the Power of Blockchain Technology. appeared first on King Newswire.
Information contained on this page is provided by an independent third-party content provider. Binary News Network and this site make no warranties or representations in connection therewith. If you are affiliated with this page and would like it removed please contact [email protected]