A Faith-Based Self-Help Book to Nurture Faith and Cultivate Personal Growth
Laurel, MD, 25th October 2023, ZEX PR WIRE, In the chaos and uncertainty of the world, "My Seeds Box" by Guy-leine Curtis is almost like a comforting refuge. The book isn't merely a collection of words; it is a guiding light for the weary soul. Through its pages, readers explore their depths of faith and find the will to discover themselves again.
In "My Seeds Box," Guy-leine Curtis passionately illustrates how several Bible verses can be more than mere words on a page; they can serve as a well of strength, wisdom, and guidance in the journey of life.
The book encourages readers to explore the hidden spiritual garden within themselves—a garden designed in the image of God. With the author's gentle guidance, readers will rediscover their unique identities as cherished children of God and learn how to reconnect their hearts with His boundless love.
"My Seeds Box" is a message of hope and inspiration. It reminds us time and again that just like seeds in a box have the potential to flourish into something beautiful, the word of God can also transform lives.
This book is a must-read for nature enthusiasts, seekers of truth, and individuals yearning for a deeper connection with their faith.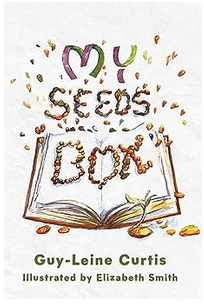 About the Guy-leine Curtis:
Guy-leine Curtis is an accomplished author, passionate about sharing the transformative power of faith and the wisdom of the Bible. With a background as a certified Life Insurance Agent and a skilled florist, she brings a unique blend of experiences to her writing. Currently studying writing at Stratford University, Guy-leine is committed to lifelong learning and personal growth.
Her deep love for nature, animals, and sports enriches her life, reflecting a vibrant and multifaceted personality. Guy-leine's influences include renowned figures in the Christian community like Joyce Meyer, Andrew Wommack, and Joseph Prince, who have played a significant role in shaping her spiritual journey.
With "My Seeds Box," Guy-leine Curtis shares her insights and invites readers to embark on a transformative adventure towards faith, self-discovery, and personal growth.
Order Details: 
Order Book here: https://www.amazon.com/My-Seeds-Box-Guy-leine-Curtis-ebook/dp/B0CB9CM2HS/
The Post Author Guy-leine Curtis Releases Inspirational Book, 'My Seeds Box,' A Spiritual Journey of Discovery first appeared on ZEX PR Wire
Information contained on this page is provided by an independent third-party content provider. Binary News Network and this Site make no warranties or representations in connection therewith. If you are affiliated with this page and would like it removed please contact [email protected]